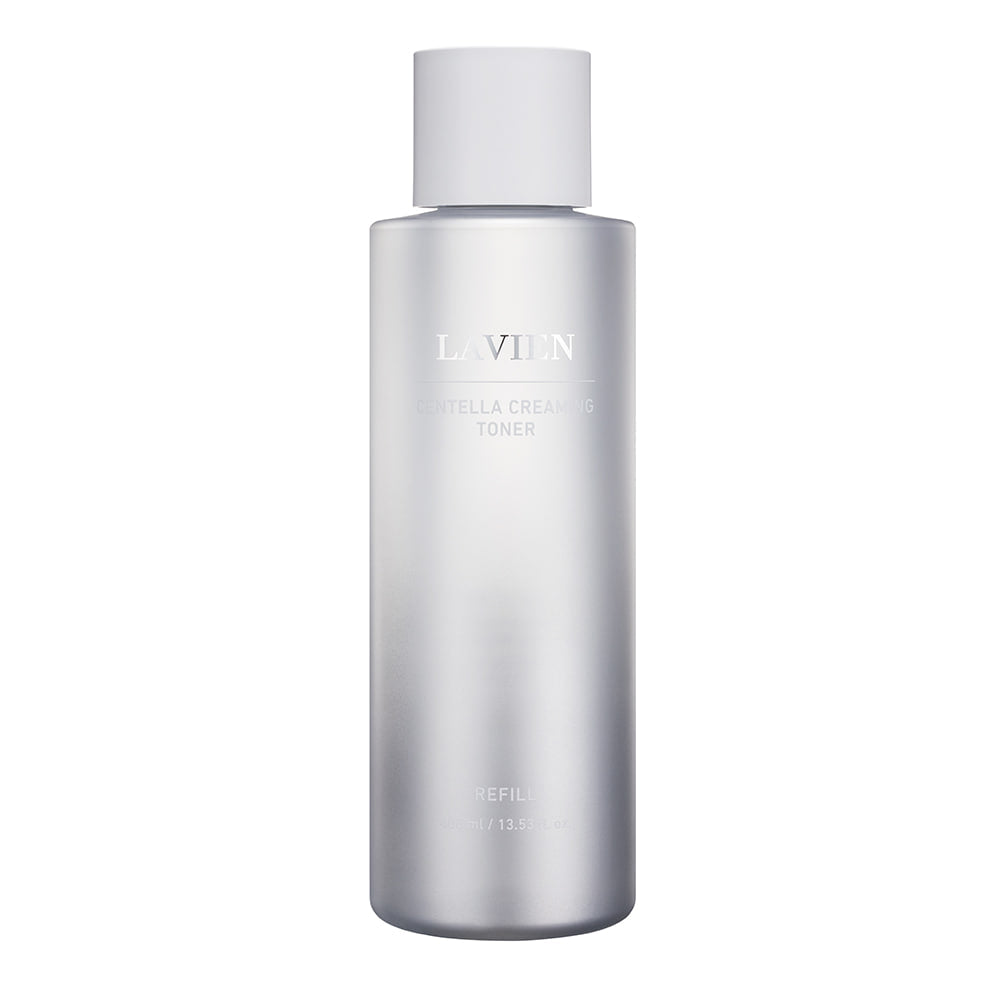 Centella Creaming Toner Refill | Anti-Aging Toner
Centella Creaming Toner Refill | Anti-Aging Toner
A common sense for skincare routine!
It smoothes out, nourish, and tone the skin surface before moisturization.
Lavien Perfect Creaming Toner is suitable for all skin types. Recommended for those looking for an anti-aging toner.
Suitable for day/night use.
1 bottle is 150ml and can last for about 4 to 6 weeks if used daily. However, it may differ based on individuals' usage frequency.

Toner - the first step for skincare routine.
Did you know?
Cosmetics absorb better into clean skin!
Lavien Centella Creaming Toner is a special formula toner with bubbles that gently cover around and melt into your skin!
Four Functions:
1.Cleanse
2.Absorb
3.Sheet Mask
4.Exfoliate
You don't need to buy a lot. You just one bottle of Centella Creaming Toner to get four functions at once!
A perfect toner for all skin types. A Multi-toner that can be used in various ways.
Use it…
-To make your skin clean.
-To exfoliate your skin.
-To soothe your skin.
-To moisture your skin.
-To make your skin glow.
A new type of toner with bubble formula.
Have a bubble face spa with Centella Creaming Toner!
Soft and fine bubbles cover and melt into your skin, helping to smooth out your skin texture and moisturize.
Steps to glowing skin:
1- A functional toner for brightening and wrinkle care.
-An upgraded toner for brightening and wrinkle care to existing toner!
2- 905, 632ppm of Centella Asiatica leaves extract base.
-Instead of purified water, Centella extracts the base to calm and moisturize.
3- To keep your skin firm, it contains Triple Cica ingredients.
-It contains Triple Cica ingredients to make your skin more comfortable.
4- It contains key ingredients of Lavien Essence:
-Contains Bakuchiol + Volufiline + Multi peptides which are the core ingredients of the essence to nourish your skin!
5- Contains AHA, BHA, PHA, AKA to smooth out your skin.
6- Natural moisturizing factor Quintuple Hyaluronic Acid
-Contains Hyaluronic Acid, a natural moisturizing factor, to moisturize your skin even more.
It also has a larger base of Centella Asiatica Leaf Extract to calm your skin!
Recommended for those:
1- Who are looking for a product with Centella ingredient
2- Who are looking for a functional toner
3- Who are worried about exfoliating
4- Who has many skin concerns
5- Who has problems with the makeup and dark skin tone
6- Who often feels dry and rough skin texture
What's new in the upgraded formula?
Upgraded to do a dual functional cosmetic

 

for brightening and wrinkle care!
Contains

 

905,632 ppm

 

of Centella Asiatica Leaf Extract to calm & soothe your skin!
High Nutrition

 

such as Volufiline, Multi peptides and

 

Triple Cica Complex to soothe your skin (Centella Asiatica Leaf Extract + Madecassoside + Asiaticoside),

 

Hydrolyzed Collagen &

 

5 types of Hyaluronic Acid

 

to pamper and moisturise your skin!
PHA, AHA, BHA, AKA

 

- 4 ingredients for smoother & glowing skin! 
ABOUT LAVIEN CENTELLA CREAMING TONER
The toner Centella Leaf Extract, Hyaluronic acid, Madecassoside, Centella Asiatica Leaf Water, PHA, AHA, BHA & AKA. Unique to its own formula, while having a pump, similar to that of cleansers, it disperses its foam to limit the amount of bubbles being released. As it works like an exfoliating toner, you can make use of cotton pads to spread the foam evenly all over your face and neck. 

Lavien Centella Creaming Toner contains natural exfoliators, hydration and together with mixed guava leaf extract, this toner helps to:
Exfoliate and smoothen skin

Maintains skin in the best condition

Provides hydration to the skin 


Key Ingredients
Centella Leaf Extract, contains 905,632ppm of Centella Asiatica Leaf Extract for soothing skin!
Madecassoside serves as an antioxidant agent, helping to prevent or heal skin damage, enabling skin to be revitalised as well as to stay smooth and glow. 
PHA

 

are natural exfoliating ingredients, which helps improve skin turnover, removing unnecessary dead skin cells, making our skin silky smooth and healthy. They help to retain moisture by hydrating the skin through gentle exfoliation, while strengthening the skin's barrier too.
BHA

 

also helps in exfoliation, reduce sebum and clogged pores at the same time. It also helps in hydrating and preventing acne!
AHA peels away dead skin cells on the surface of your skin and prevents future clogs from forming. It also help to reduce and prevent age spots and hyperpigmentation!
AKA 

 

smoothens skin texture, reduces fine wrinkles and the appearance of pigmentation on skin.

Bakuchiol helps reduce and prevent wrinkles, fine lines, pigmentation and improve your skin's elasticity with anti-ageing benefits!
Multipeptides - Improve skin barrier, ease skin inflammation, reduce wrinkles and make skin look firmer!
When do you apply toner?
Toner is the last step of cleansing and the first step of skin care. Toners are often referred to as skin care boosters. This means that they create a foundation layer on your skin to help increase the effectiveness of your other skin products such as ampoules, serums, moisturisers and oils.

Why do you apply the toner?
In general, toners are there to provide and bind moisture into the skin to create supple and bouncy texture. Keeping our skin hydrated is extremely important especially with our humid weather in Singapore because when our skin is dry, it may cause other skin complications such as breakouts, over production of oils, wrinkles and saggy skin.