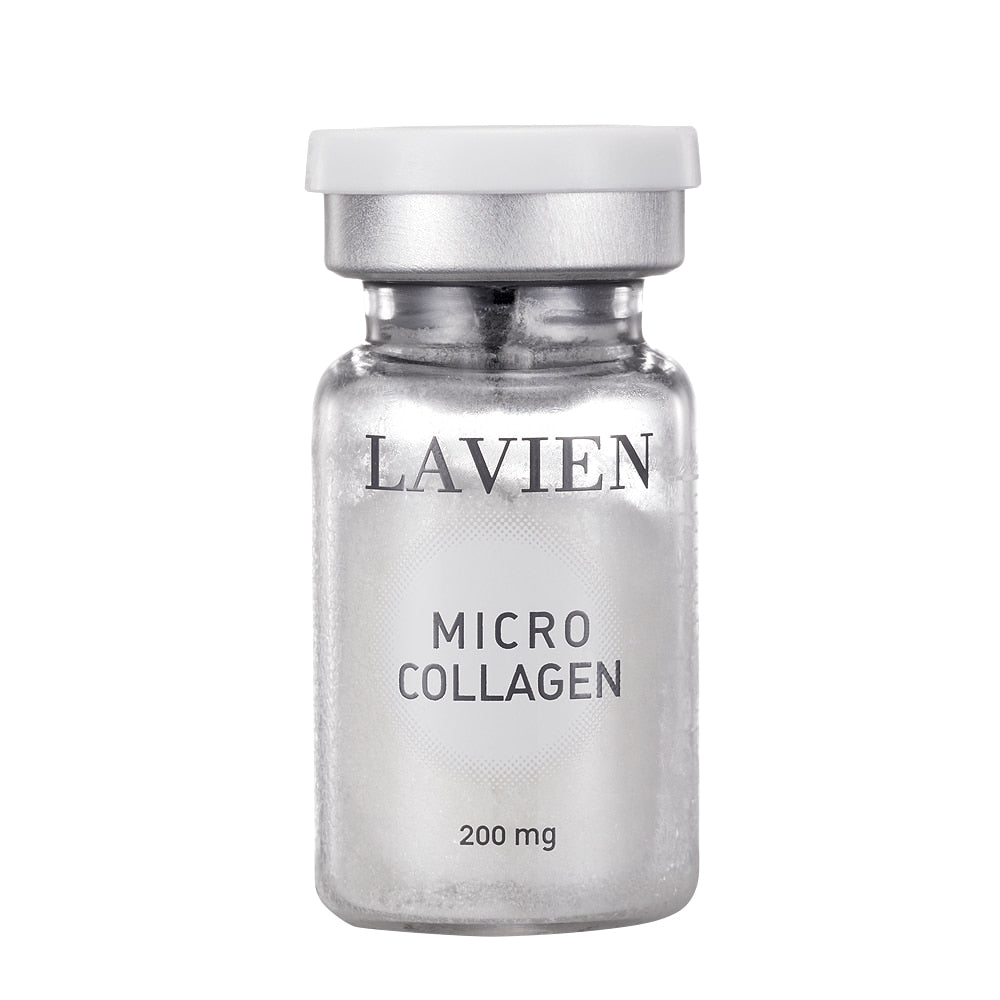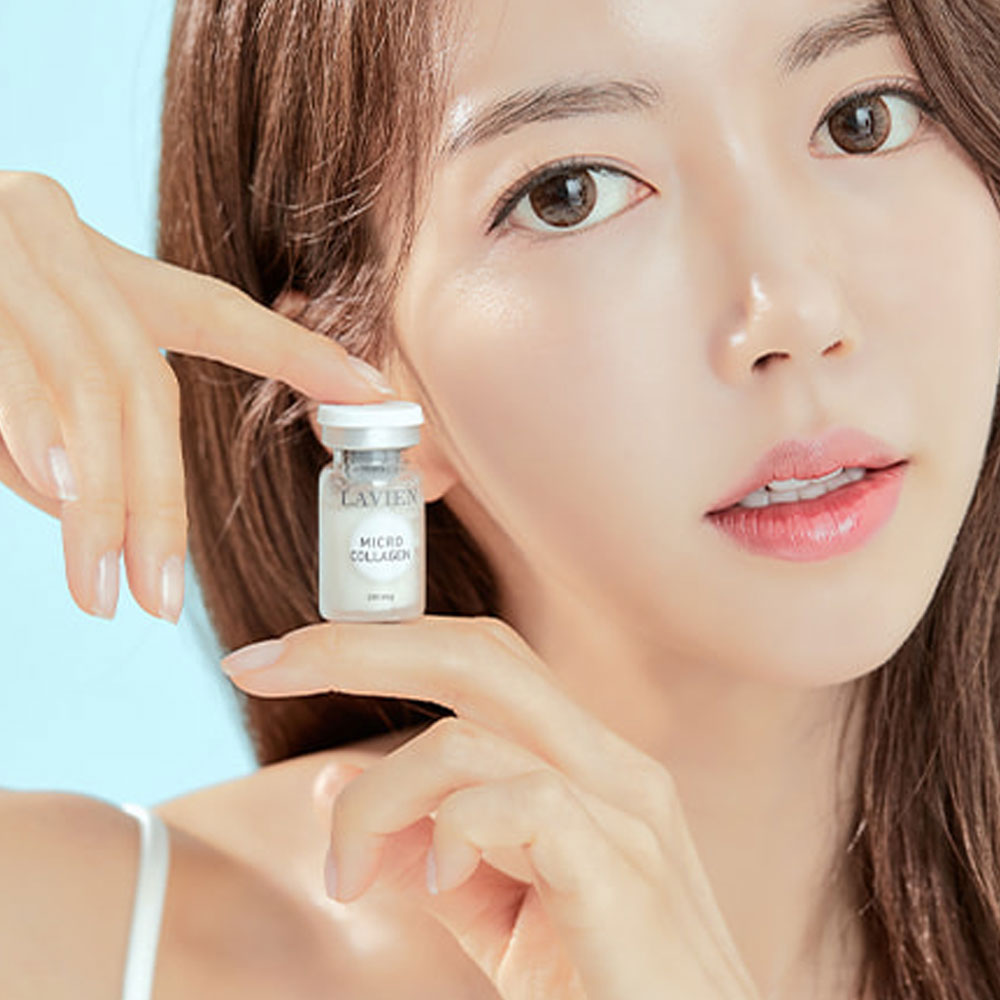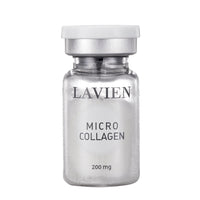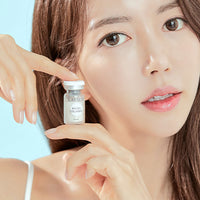 Collagen Professional Program Vial 1ea (Booster Not Included) | Lavien Collagen Ampoule | Pore Reducer | Skin Vitamins
Collagen Professional Program | Lavien Collagen Ampoule | Pore Reducer | Skin Vitamins
Changing the trends of collagen!
70% of our skin contains collagen. It is present in different parts of the body such as the hair, eyes, teeth, skin, nails, face, and bones. It is an important type of skin protein known as the "pillars of skin". However, as we grow old, the number of collagen decreases year by year. In fact, after your 40s, it drops up to 50% compared to those who are in their 20s.
Lavien Collagen Professional Program is a home care programme that allows you to achieve supple and youthful skin in the comfort of your own home!  The set consists of Ampoule 1 - Micro-Collagen Powder that is formulated to penetrate into the skin, and Ampoule 2 - Activating Booster ampoule, a thick liquid collagen ampoule that helps to calm and protect the skin barrier. When combined together, it offers results similar to clinical treatments - immediate lifting effects and reduced pore size!
Collagen, Action!
1- Using collagen product of the specialized firm specialized firm which is selling its products to over 63 companies in Korea.
2- Collagen at a different level! Microparticles with patented technology.
3- Rapid freeze-drying techniques were used below -77 degrees to allow ampoule to melt without collagen loss or deformation.
4- Secondary ampoule used with collagen which is functional by itself and a functional cosmetics product. (Caramide, collagen, elastin, hyaluronic acid, and other materials for wrinkle-reducing and whitening.)
WHAT'S SO UNIQUE ABOUT LAVIEN COLLAGEN AMPOULE
The Collagen used is from a specialised firm and it is selling products to over 63 companies in Korea. It also holds 38 patents locally and abroad and is recognised as an outstanding laboratory.
Micro Collagen particles are created with patented technology. The Collagen particles are

 

100% Hydrolysed Collagen

 

and it is

 

compressed with lyophilisation method

 

(rapid freeze drying) at -77

 

℃, 

which promotes dissolution of Collagen to the Activating Booster while remaining the unique efficacy of the material so that it can be

 

quickly absorbed into the skin. Lavien has also done a test to show that collagen particles are not modified after lyophilization method and molecule weight before and after are the same.
Ampoule 2, the Activating Booster Ampoule is also functional on its own. Containing 66% Centella Asiatica Extract and other key ingredients such as Ceramide, Collagen, Elastin and Hyaluronic Acid, it can help to calm the skin while also also improving wrinkles, brightening the skin, improving elasticity and providing deep hydration.

Lavien Micro Collagen is about 

446 Da

 (measurement of size of protein molecule) compared to other collagens which are about 30,000 Da on average. The 

smaller the particle, the easier it is to be absorbed into the skin

. The Micro Collagen undergo a process called lyophilisation which promotes dissolution of collagen to the Activating Booster while remaining the efficacy of the material so that it can be absorbed into skin quickly.
Ampoule 1 - Micro-Collagen Powder
100% Hydrolyzed Collagen (Freeze Drying) 
Ampoule 2 - Activating Booster ampoule (recommended to use with Ampoule 1)
Centella Asiatic Extract - calms the skin

Ceramide - skin barrier protection

Hyaluronic Acid - deep moisturisation

Low-molecule Collagen - firms up the skin

Low-molecule elastin - provides elasticity

Derma Skin Rejuven - patented component that helps with pore tightening
Micro Collagen Particles
No other materials than collagen
One material in one small bottle = 100% collagen
Perfect for:
Improved skin texture
Provided instant lifting effects
Provided instant pore minimizing effects
Decrease of red spots (freckles with melanin)
Alleviates blemishes and freckles
Improved elasticity
Effects lasted even after 24 hours after last use.
Activating Booster
It's not a common booster!
Functional ampoule that works with booster itself.
Double effective cosmetics with whitening and wrinkle reduction.
-Centella extract (66%) is contained as a basic ingredient.
-Wrinkle care, brightening, elasticity, moisturizing, skin calming, and lifting.
-No artificial colors.
-None of the 20 worrisome ingredients is contained in this product.
-Allergen-free bergamot scent.
-Less irritation test is done.
What makes it best?
-Thick and condense texture
-Sleek and absorbing
-Clear as glass with a sleek formula
-makes skin more elastic
The results proved it!
-Skin texture improvement and 24-hour sustaining effects.
-Instant lifting for cheek and mouth area with 24-hour sustaining effects.
-Instant pore shrinking with 24-hour sustaining effects.
-Decrease of red spots (freckles with melanin).
-Alleviating blemishes and freckles.
-Elastic Restoring Force Improvement.
This is RECOMMENDED for those…
-Have not used collagen yet.
-Have pressed marks on the skin due to sleep or wearing a mask.
-Feel that their face is getting bigger due to skin laxity.
-Taking collagen but not using it as cosmetics.
-Feel like their face is not elastic.
-Feel that there are more freckles on their face.