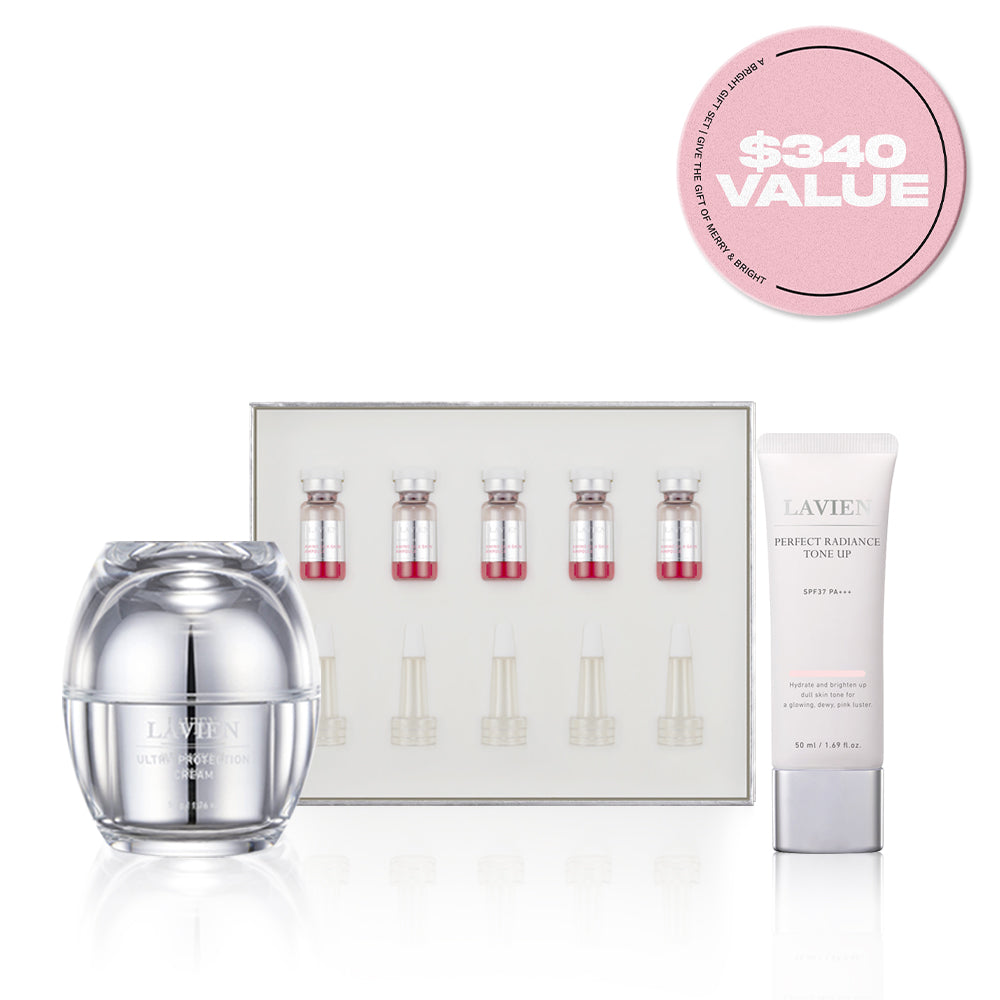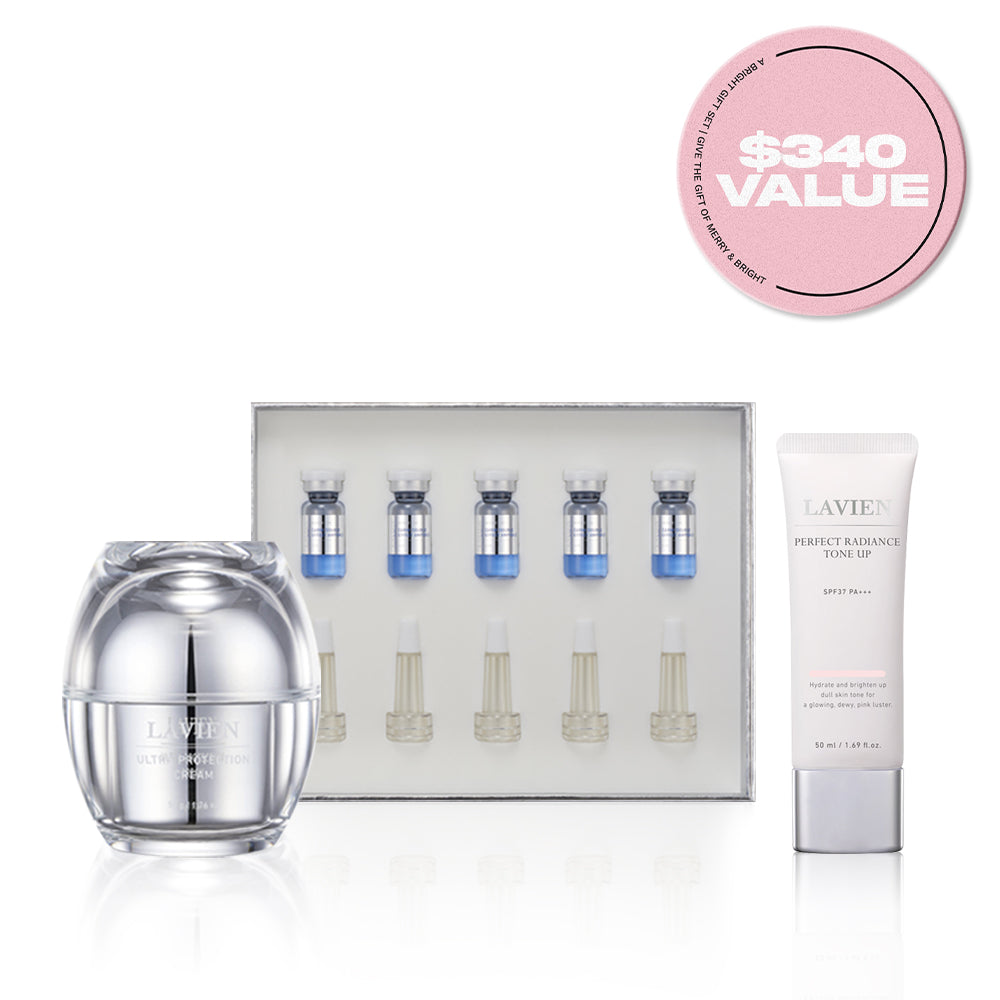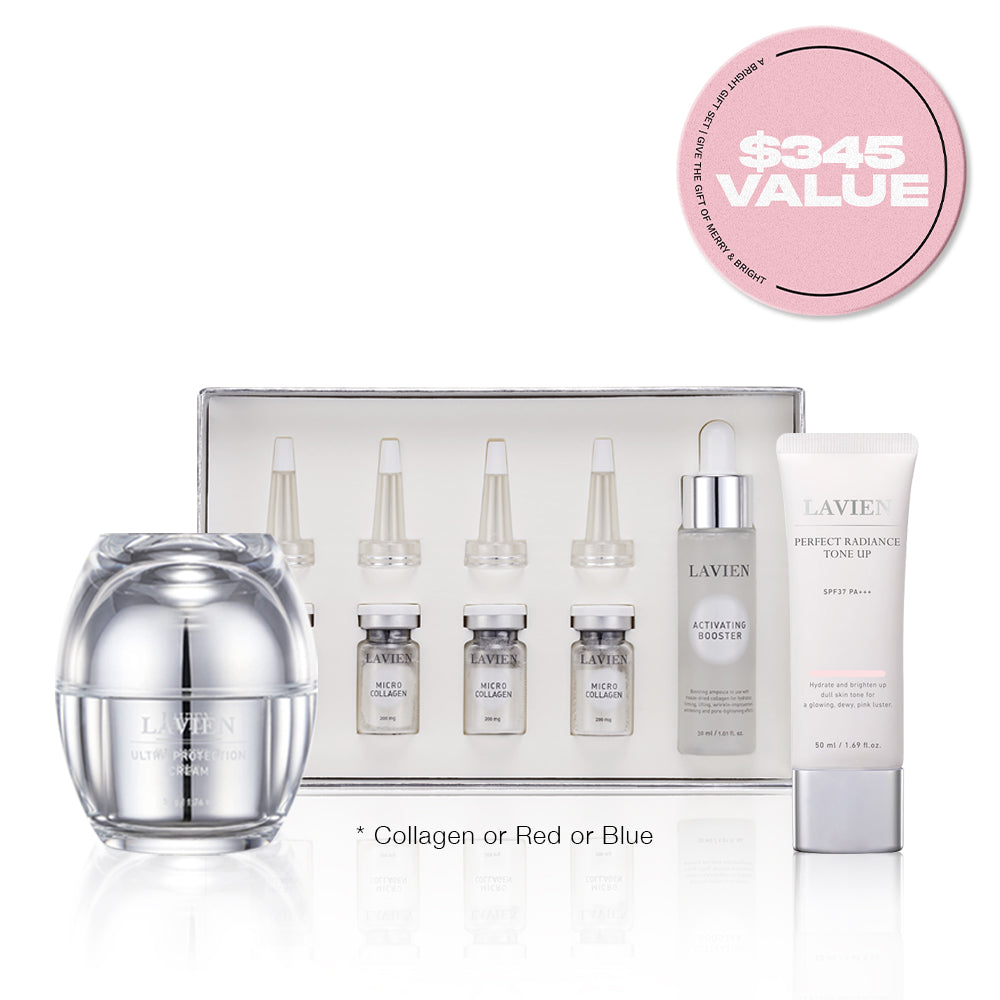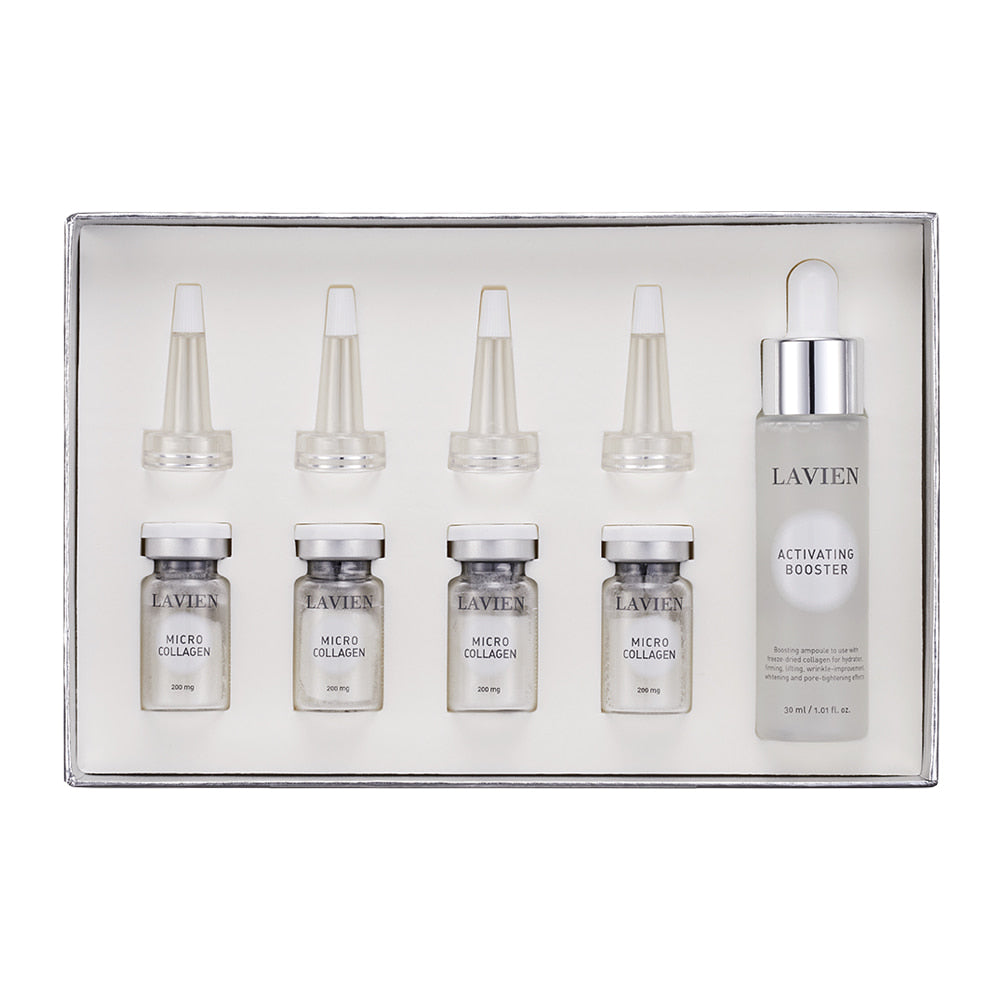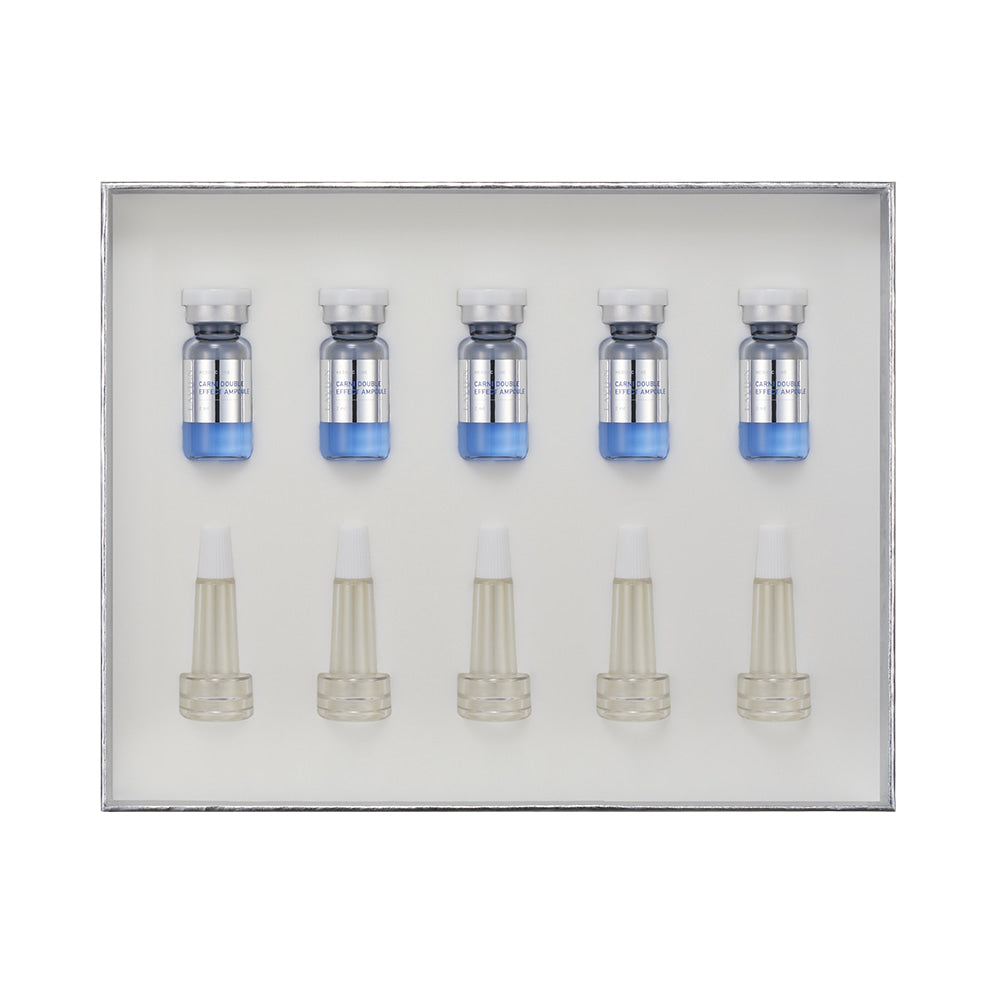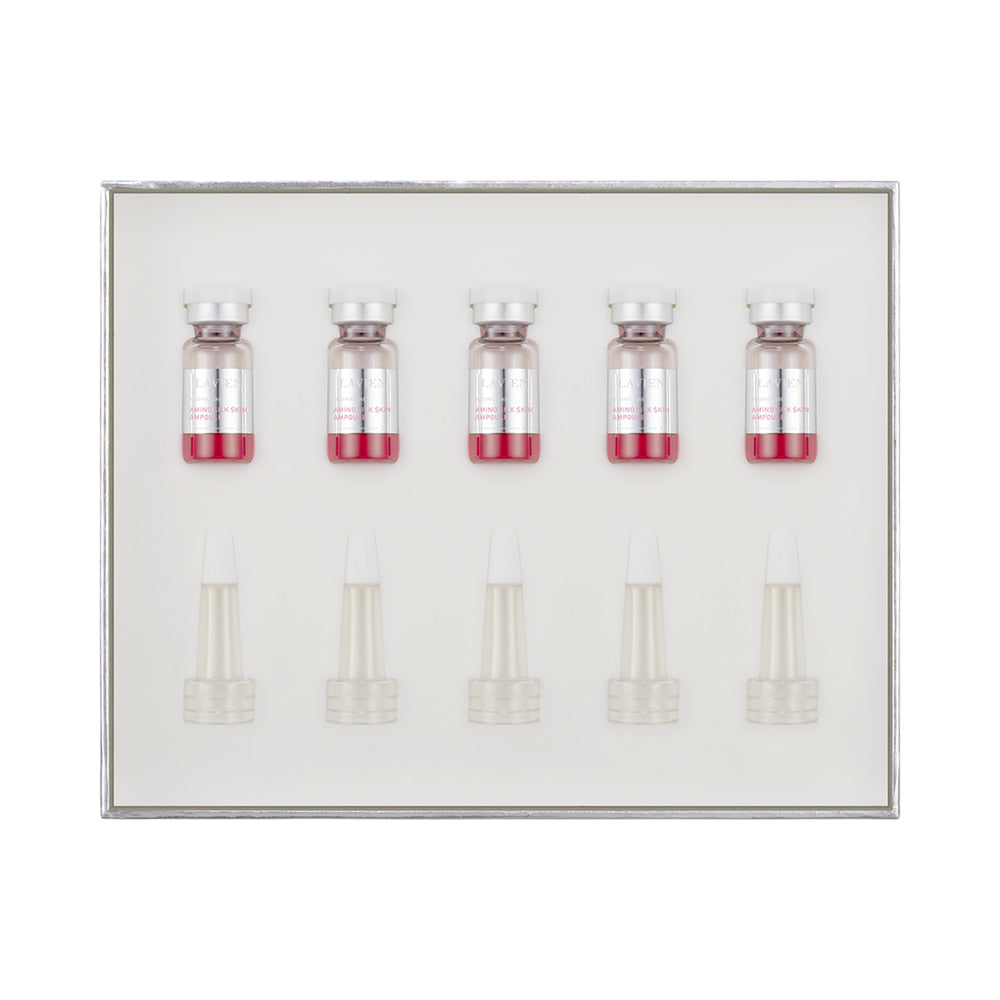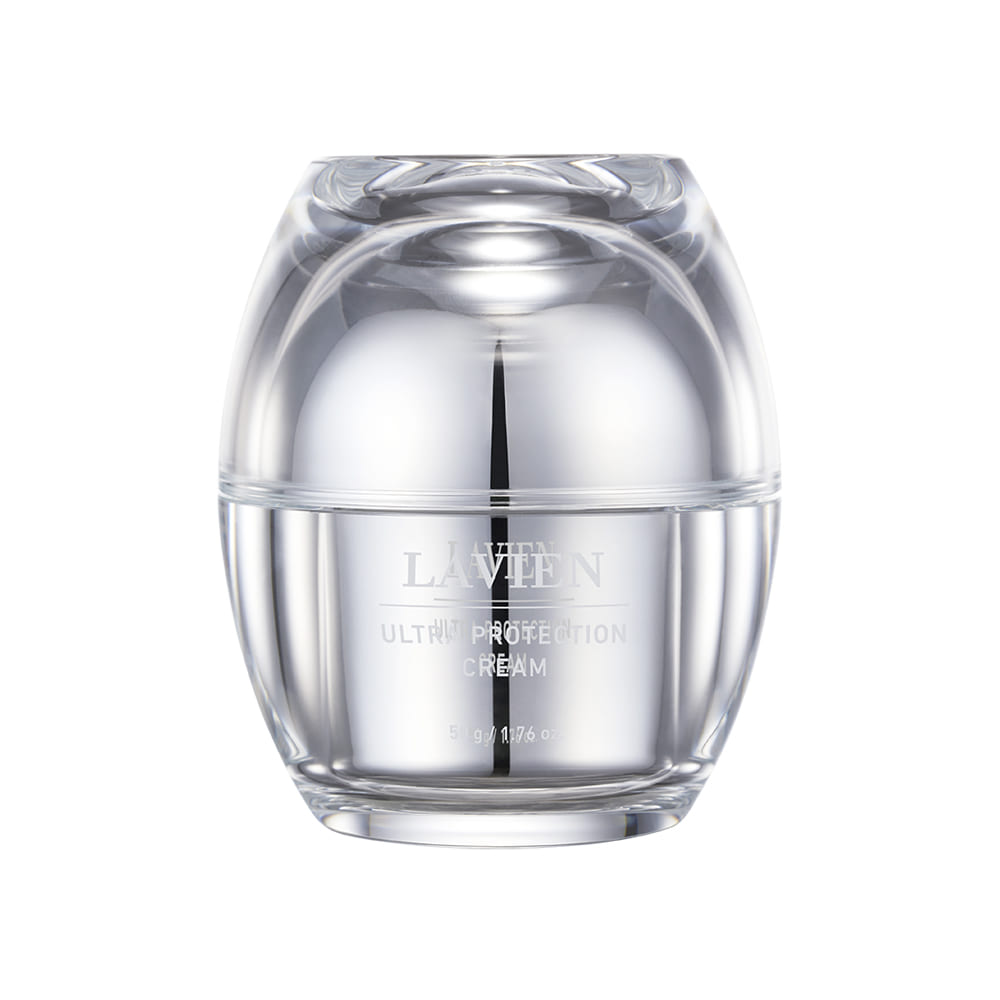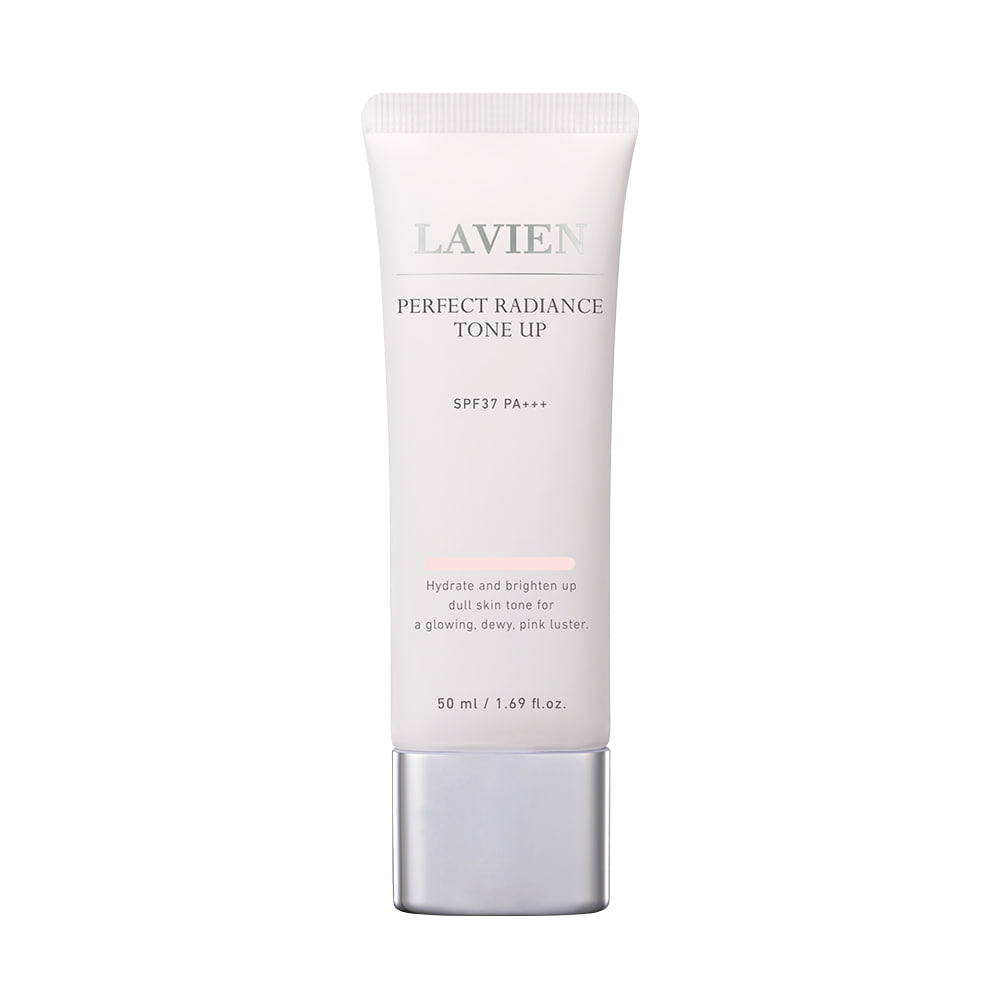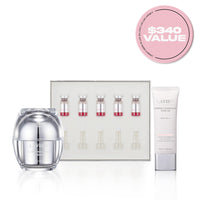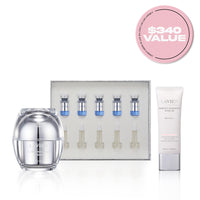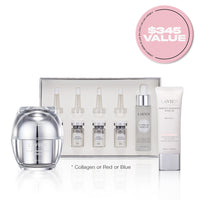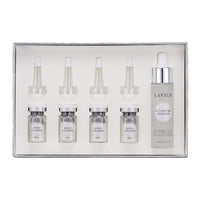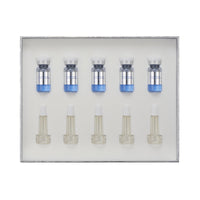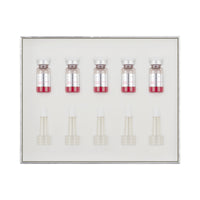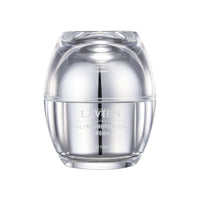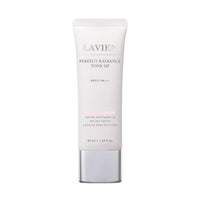 Lavien Bright Value Set 10
Bright Gift Value 10
Collagen Professional Program or Medinic Line Amino Silk Skin Ampoule or Medinic Line Carni Double Effect Ampoule
+ Perfect Radiance Tone-Up Cream + Ultra Protection Cream


Collagen Professional Program | Lavien Collagen Ampoule | Pore Reducer | Skin Vitamins

Changing the trends of collagen!
Micro Collagen + Activating Booster and Collagen Ampoule
70% of our skin contains collagen. It is present in different parts of the body such as the hair, eyes, teeth, skin, nails, face, and bones. It is an important type of skin protein known as the "pillars of skin". However, as we grow old, the number of collagen decreases year by year. In fact, after your 40s, it drops up to 50% compared to those who are in their 20s.
Lavien Collagen Professional Program is a home care programme that allows you to achieve supple and youthful skin in the comfort of your own home!  The set consists of Ampoule 1 - Micro-Collagen Powder that is formulated to penetrate into the skin, and Ampoule 2 - Activating Booster ampoule, a thick liquid collagen ampoule that helps to calm and protect the skin barrier. When combined together, it offers results similar to clinical treatments - immediate lifting effects and reduced pore size!
Collagen, Action!
1- Using collagen product of the specialized firm Collagen-specialised firm which is selling its products to over 63 companies in Korea.
2- Collagen at a different level! Microparticles with patented technology.
3- Rapid freeze-drying techniques were used below -77 degrees to allow ampoule to melt without collagen loss or deformation.
4- Secondary ampoule used with collagen which is functional by itself and a functional cosmetics product. (Caramide, collagen, elastin, hyaluronic acid, and other materials for wrinkle-reducing and whitening.)
WHAT'S SO UNIQUE ABOUT LAVIEN COLLAGEN AMPOULE
The Collagen used is from a specialised firm and it is selling products to over 63 companies in Korea. It also holds 38 patents locally and abroad and is recognised as an outstanding laboratory.
Micro Collagen particles are created with patented technology. The Collagen particles are

 

100% Hydrolysed Collagen

 

and it is

 

compressed with lyophilisation method

 

(rapid freeze drying) at -77

 

℃, 

which promotes dissolution of Collagen to the Activating Booster while remaining the unique efficacy of the material so that it can be

 

quickly absorbed into the skin. Lavien has also done a test to show that collagen particles are not modified after lyophilization method and molecule weight before and after are the same.
Ampoule 2, the Activating Booster Ampoule is also functional on its own. Containing 66% Centella Asiatica Extract and other key ingredients such as Ceramide, Collagen, Elastin and Hyaluronic Acid, it can help to calm the skin while also also improving wrinkles, brightening the skin, improving elasticity and providing deep hydration.

Lavien Micro Collagen is about 

446 Da

 (measurement of size of protein molecule) compared to other collagens which are about 30,000 Da on average. The 

smaller the particle, the easier it is to be absorbed into the skin

. The Micro Collagen undergo a process called lyophilisation which promotes dissolution of collagen to the Activating Booster while remaining the efficacy of the material so that it can be absorbed into skin quickly.
Ampoule 1 - Micro-Collagen Powder
100% Hydrolyzed Collagen (Freeze Drying) 
Ampoule 2 - Activating Booster ampoule
Centella Asiatic Extract - calms the skin

Ceramide - skin barrier protection

Hyaluronic Acid - deep moisturisation

Low-molecule Collagen - firms up the skin

Low-molecule elastin - provides elasticity

Derma Skin Rejuven - patented component that helps with pore tightening
Micro Collagen Particles
No other materials than collagen
One material in one small bottle = 100% collagen
Perfect for:
Improved skin texture
Provided instant lifting effects
Provided instant pore minimizing effects
Decrease of red spots (freckles with melanin)
Alleviates blemishes and freckles
Improved elasticity
Effects lasted even after 24 hours after last use.
Activating Booster
It's not a common booster!
Functional ampoule that works with booster itself.
Double effective cosmetics with whitening and wrinkle reduction.
-Centella extract (66%) is contained as a basic ingredient.
-Wrinkle care, brightening, elasticity, moisturizing, skin calming, and lifting.
-No artificial colors.
-None of the 20 worrisome ingredients is contained in this product.
-Allergen-free bergamot scent.
-Less irritation test is done.
What makes it best?
-Thick and condense texture
-Sleek and absorbing
-Clear as glass with a sleek formula
-makes skin more elastic
The results proved it!
-Skin texture improvement and 24-hour sustaining effects.
-Instant lifting for cheek and mouth area with 24-hour sustaining effects.
-Instant pore shrinking with 24-hour sustaining effects.
-Decrease of red spots (freckles with melanin).
-Alleviating blemishes and freckles.
-Elastic Restoring Force Improvement.
This is RECOMMENDED for those…
-Have not used collagen yet.
-Have pressed marks on the skin due to sleep or wearing a mask.
-Feel that their face is getting bigger due to skin laxity.
-Taking collagen but not using it as cosmetics.
-Feel like their face is not elastic.
-Feel that there are more freckles on their face.
------------------------------------------------------------------------------------
Medinic Line Amino Silk Skin Ampoule | Professional Skincare Management Programme
Medinic Line Amino Silk Skin Ampoule is a dual functional cosmetic for whitening and wrinkle improvement that helps in collagen production, and delays aging by creating moist and soft skin with amino acids and peptides, which are key ingredients for protein production.

Highly concentrated ampoule with carefully selected key ingredients and 55 kinds of ingredients
Double the content of amino acids, peptides, and vitamin B12
The product has been tested for collagen production at P&K Clinical Research Center / In-vitro efficacy evaluation
Moisturizing, soft skin, increase of elasticity
Hyaluronic acid to help store moisture and supply and maintain skin moisture

Orange vitamin coenzyme Q10 that helps skin health

Ingredients that help skin elasticity and skin tone
This product is a concentrated water type, not sticky or oily, and spreadability is excellent, it is quickly absorbed and the skin texture is smooth after use.
Ampoule usage and precautions
It is most effective to use a micro roller together.
1. Insert the cone-shaped dropper into the ampoule container.
2 Roll it all over the face with a micro roller.
3. Turn the white cap of the dropper to open it, turn the ampoule upside down and apply evenly over the entire face while lightly pressing the dropper.
4. If the contents remain, turn the dropper's white cap all the way to close it and refrigerate it.
* After opening, it is recommended to use all at once.
**Be careful not to injure yourself when removing the aluminum container cap.
------------------------------------------------------------------------------------
Medinic Line Carni Double Effect Ampoule | Professional Skincare Management Program
-4x Copper Tripeptide
-1.6x Carnitine
-Isoflavone, plant-based Soybean extract added
-Suitable for acne-prone skin use
-Smooth, no stickiness
-Manufactured in the sterilization process
Best for:
- Hydration for dull and aging skin
- Skin barrier
- Oil control
- Brightening
- Pore and rough skin surface care
- For acne-prone skin
CARNI DOUBLE EFFECT AMPOULE
- Supports hydration and moisture barrier
- Targets dullness and uneven texture
- Suitable for acne-prone skin
Result:
- Healthy and clear acne
- Targets hydration, brightening, and smooth skin surface
- Suitable for acne-prone skin
Why do I need an ampoule in my skincare routine?
Ampoules are also closely related to serums, which are lightweight formulas packed with nourishing ingredients. The key differences would be ampoules containing a greater dose of the active ingredients and meant to impart results in a shorter period of time.
While also highly concentrated in active ingredients, ampoules usually contain lesser percentage of preservatives, which explains why they should be used up quickly to ensure the freshness of the ingredients. Turn to the usage of an ampoule, should your skin require a quick shot of nourishment!
This detoxifying and anti-aging ampoule aims to achieve improved Skin Elasticity and Collagen Stimulation.

With Carnitine, it helps to remove leftover MMPs (Matrix Metallopeptidases), which are enzymes activated by UV exposure or inflammation. MMPs also contribute to the breakdown of collagen while inhibiting new collagen formation.

After the removal process is completed, Copper Tripeptide and other ingredients work together for skin tissue restoration. As such, these key ingredients work together to help you achieve a sharper and more defined face shape naturally.
KEY INGREDIENTS

Carnitine - Carnitine plays a critical role in energy production. It transports long-chain fatty acids into the mitochondria so they can be "burned" to produce energy. It also transports the toxic compounds out of this cellular organelle to prevent their accumulation. For ageing skin, Carnitine may be involved because its concentration in tissues declines with age and thereby reduces the integrity of the mitochondrial membrane.

Copper Tripeptide

 

- Copper Tripeptides have antioxidant and anti-inflammatory effects and can promote wound healing, collagen stimulation and attraction of immune cells. The level of Tripeptides naturally occurring in the body reduces with age and it is mainly used as an anti-ageing ingredient in skincare. By increasing collagen production, Copper Tripeptide can improve skin firmness, elasticity and plumpness, whilst its wound-healing properties make it a great treatment for scarring and wrinkles.
 -----------------------------------------------------------------------------------
Perfect Radiance Tone Up Cream | Brightening and creates Natural Look
Lavien Perfect Radiance Tone Up Cream is suitable for all skin types. Recommended for those looking for a vitality cream packed with 7-in-1 functions. 
Suitable for day/night use but please remember to remove before bed.
1 bottle is 30ml and can last for about 4 to 6 weeks if used daily. However, it may differ based on individuals' usage frequency


WHY DO I NEED A TONE-UP CREAM IN MY SKINCARE ROUTINE?
"IT'S THE SECRET TO A BRIGHTER AND EVEN SKIN COMPLEXION!" 
A tone-up cream creates a natural no-makeup-makeup-look when you feel uncomfortable going out bare-faced, but do not want to do a full face of makeup. It straddles the line between makeup and skincare as it helps to even out skin tones and brighten your dull complexion. Some even help to reduce the appearance of pores and hydrate your skin as well!
Although tone-up cream does not cover pores like primers, it is also classified as a makeup base because it brightens your skin tone. If you would like to achieve a fairer and even complexion without piling on concealer or foundation, this is a great alternative! 
You'll be totally sold into the concept of tone-up cream as it evens out your skin tone (it cancels out the sallow olive undertones in your skin) in one easy step! Once your usual skincare routine is completed, just spread this over your entire face before following up with a cushion or foundation of your choice. This is definitely a dream come true for lazy individuals like me! 

ABOUT LAVIEN PERFECT RADIANCE TONE UP CREAM
Lavien Perfect Radiance Tone Up Cream is a vitality cream optimised with 7 functions to tone up your dull & pale, tired, rough and flat skin into a rosy glow and lively skin! It is formulated with a golden ratio of 68% Moisturising ingredients & 16% Tone up ingredients to help you achieve that rosy glow while moisturising your skin at the same time!
All the best points of renowned foundations and coloured cosmetics have been brought to life by Lavien and blended together to formulate this vitality cream.

Did you know it is also known as the Ballerina Cream (Cherry Blossom Cream): During the ballet career of Lavien Founder, Park Hyunsun, she desired her skin to shine naturally without foundation under the lights like the fancy costumes she wore. Mixing and matching various ingredients led to this creation. Right now, she wants to share with everyone this secret cream she has been using all her life as a ballerina! 
KEY INGREDIENTS
Lavien Perfect Radiance Tone Up Cream incorporates premium ingredients into its formula to not only achieve a brighter tone up and rosy glow for your skin but also, to moisturise, soothe and protect your skin along with several other benefits. 
Volufiline

Improves skin elasticity and volumising by activating fat
Enhance your skin's health with significant anti-ageing effects

Giga White from Swiss Alps

A skin brightener developed with natural Swiss Alpine ingredients.
Effective in treating dark spots, skin discolouration and sun damaged skin.

US Patented Argatensyl for wrinkle care, tightening effects as well as improvement on skin surface 
Camellia Flowers & Damask Rose Extract: To achieve the lively natural rosey tone up

Peony Root: A natural antioxidant known to help boost skin clarity and protect your skin from free radical damage induced by UV radiation; Also corrects skin's surface for visibly brighter, more radiant-looking skin.
Camellia Flowers: A natural skin moisturiser known for its remarkable ability to retain moisture and penetrate into the deepest layers of your skin; It also contains anti-ageing benefits thanks to its collagen boosting and anti-oxidant properties.
Damask Rose Extract: Contain astringent properties to tighten your pores, providing a smoother complexion; Soothes and calms your skin from irritation and inflammation.

Edelweiss Extract

A powerful antioxidant to helps your skin stay wrinkle-free, supple, and firm and eliminate free radicals (which damage your skin and cause premature ageing or wrinkles).
A natural anti-bacterial weapon to guard your skin against harmful strains of bacteria

Centella Asiatica Leaf Water & Selaginella Lepidophylla

 

moisturises and soothes skin

Serving as an antioxidant, it soothes irritated skin from external environment and improves the skin for a smoother and more elastic skin texture. 

Selaginella Lepidophylla: This potent antioxidant acrs as both a humectant and an emollient, to allow moisture to penetrate into your skin skin and prevent water loss at the same time.


KEY POINTS
 Optimal combination of seven functions 
Acts as a Moisture cream, Nutrition cream

, 

Brightening cream

, Correction cream, 

Wrinkle cream

, 

Sun cream and also, a

 

Makeup base

!
 Triple Functionality Effects: Brightening, Wrinkling Improvement Functionality, SPF 37 PA+++, Hypoallergenic tested 
To TONE UP your dull & pale skin into a rosy glow and lively skin!
 Golden ratio of moisturiser V.S Tone up ingredients 
68% Moisturising ingredients & 16% Tone up ingredients
The perfect ratio to help you achieve

 

glass skin and natural tone up!
EFFECTS
Triple Functionality: Brightening, UV Protection, Multi Tone Up
Evens out skin tone

 

to achieve Natural & Brightens Complexion
Moisturising
Authentic Shine:

 

Natural looking Radiance & Vitality
HOW TO USE

In the last step of your skincare routine, apply an appropriate amount to your entire face along with the skin texture.
Pair it together with

 

Lavien Radiance Essence Cushion

 

for more coverage during social events or nights out!
RECOMMENDED FOR THESE INDIVIDUALS
Dry & tired looking skin
Yellow skin
Pigmented skin
Swollen red skin
FAQS: 
The tone up cream is more suitable for which skin type? 
It is suitable for all skin types. However, it is recommended your should visit or consult a dermatologist/specialist to seek professional advice before purchasing or usage. We also recommend individuals who use shades 27 or CLE CCC Cream in warm medium light shade or darker shades to use the CLE CCC cream instead of this tone up cream.

What is the texture of the tone up cream?
It has a creamy texture with matte and light feeling to help achieve glass skin and natural tone up.

Is this product for pregnant or breastfeeding ladies' usage? 
This product is safe for both pregnant and breastfeeding ladies' usage as it does not contain any synthetic cleaning component. However, since it is a sensitive period, we recommend you to check the ingredient list and consult your doctor or gynaecologist before purchase or usage.

How often should I use the tone up cream?  
This product works more like a CCC product and is not a skincare item. You can use it daily for your day or night usage. However, please remember to remove before bed.

How long can I use the tone up cream for? 
Upon opening, it is advised to be used over a period of 12 months only.
Skincare Routine > Sunblock > Tone Up Cream > Radiance Cushion (for more coverage!)
Should I still apply sunscreen if I use the tone up cream? 
Due to Singapore humid weather and warm climate, we recommend you to apply sunscreen as well to have that extra sun protection. This helps create a little barrier between your makeup and the protective layer of sunblock underneath.
Precautions for use: 
It is recommended for you to visit or consult a dermatologist/specialist to seek professional advice before purchasing or usage.

Should the area (that has been applied with product) have abnormal effects or side effects such as red spots, swelling or itching due to direct sunlight, please stop using the product and consult a doctor immediately. 

Refrain from applying product on open wounds or injured areas.
Keep it away from direct sunlight.
Keep it out of reach of children.
 -----------------------------------------------------------------------------------
Ultra Protection Cream | Whitening and Wrinkle Improvement | Skin Barrier Protection
Complex solution for wrinkle improvement and hydration!
-Strengthen moisturizing power
-Improve wrinkles
-Whitening
Containing Complex Hyaluronic Acid
Double hydration of ceramide NP, the high moisture element, and hyaluronic, natural moisturizing factor, balances oil and water by penetrating into the skin for skin health. The cream contains BSASM, the skin-soothing component, to soothe the skin.
-Ingredients with various sizes and characteristics
-Made of five hyaluronic acid
-Complex solution for whitening, wrinkle improvement, and hydration
Real Effect:
-Velvety Texture. Velvety texture envelops the skin to fill up moisture with the sense of matte finish. Crema creating matt and silky skin. Powdery and soft scent mildly spreads and makes your skin feel comfortable and moist for a long time.
-Soft and Glossy skin. You will have a tight and elastic feeling after applying. Feeling that fills from deep inside with the accumulating moisture.
-Skin Barrier Protection Effect. BSASM (Bio Spectrum Atopy Soothing Max) protects the skin barrier and alleviates itching and irritation.
-Moisture Retention From Inside. Hyaluronic acid with 5 types of ceramide. Prevents everlasting moisture and vitality to your skin. Dense moisture with low molecular hyaluronic acid.
Who is it for:
1- For all skin types. For "all skins" including oily skin, acne skin, atopic skin, inflammatory skin, dry skin, and sensitive skin.
2- Natural moisturizing factor. "Double hydration" with hyaluronic acid and ceramide NP.
3- For all skin types. "Moisture, whitening, wrinkle, and hydration."