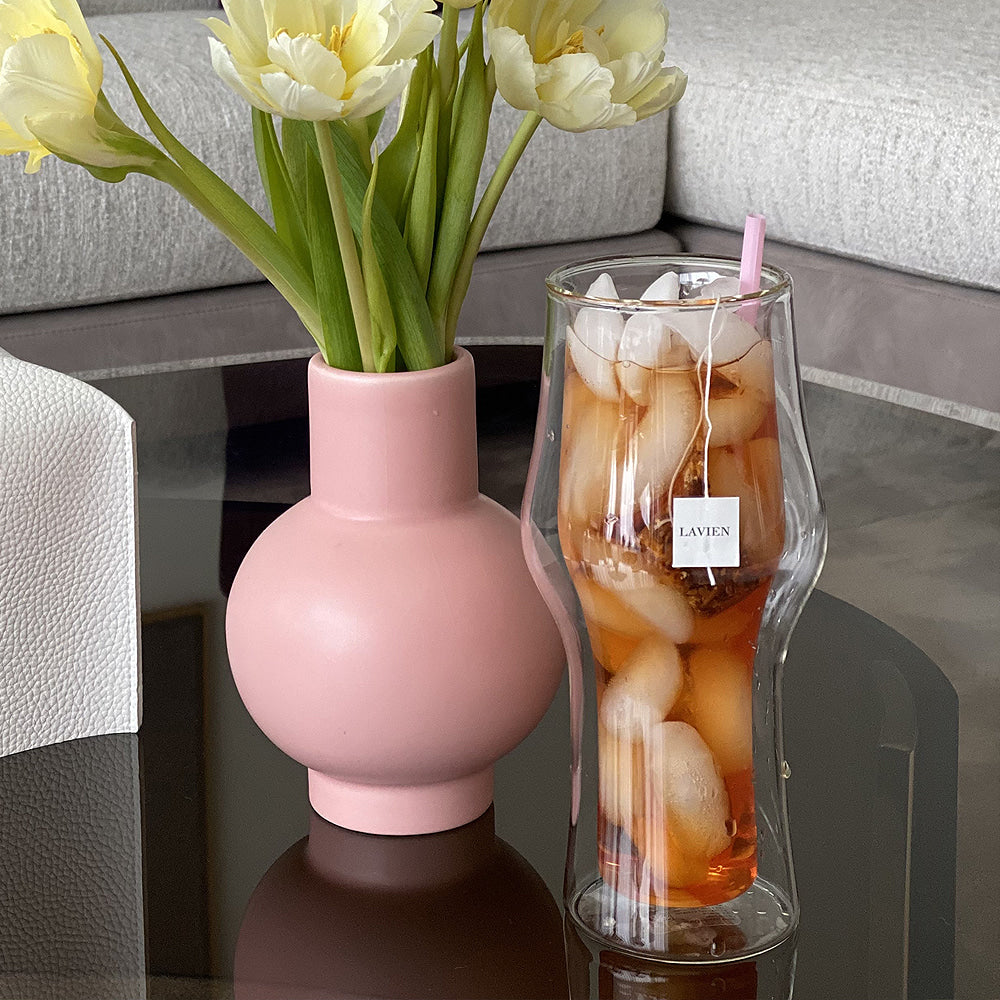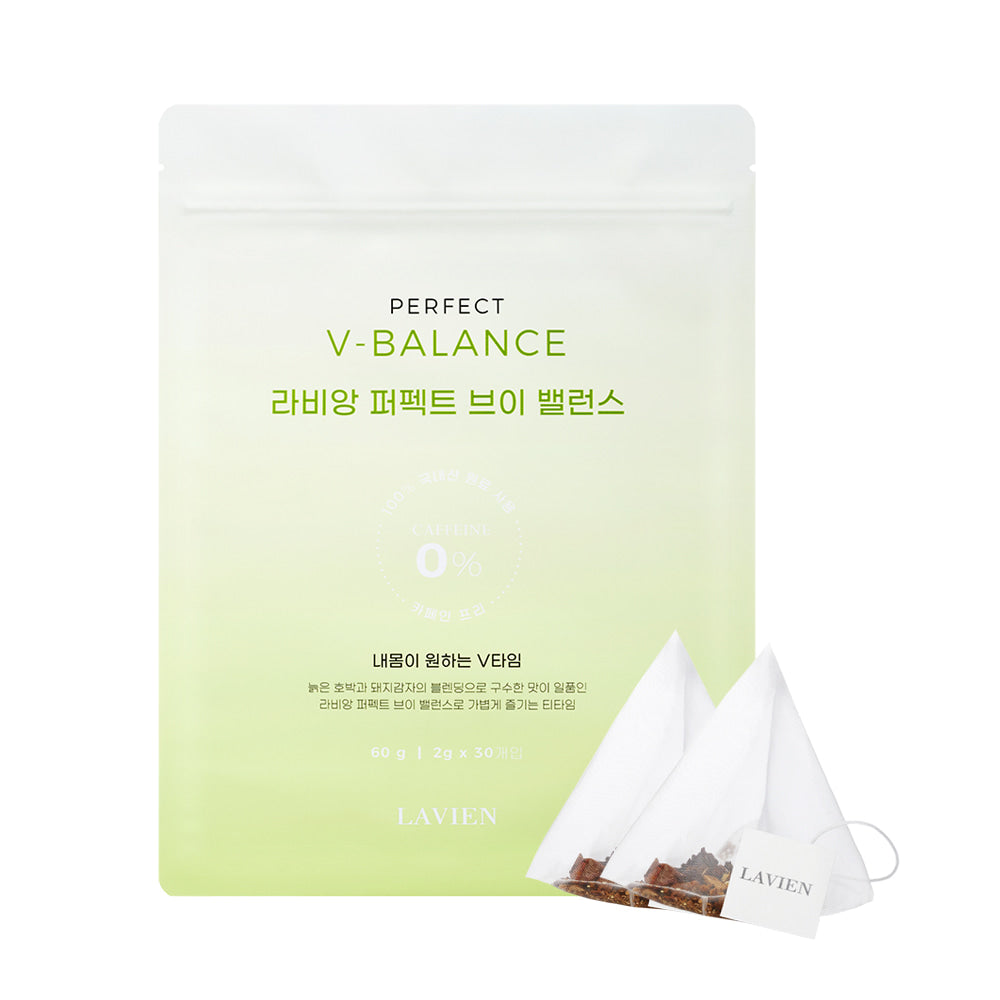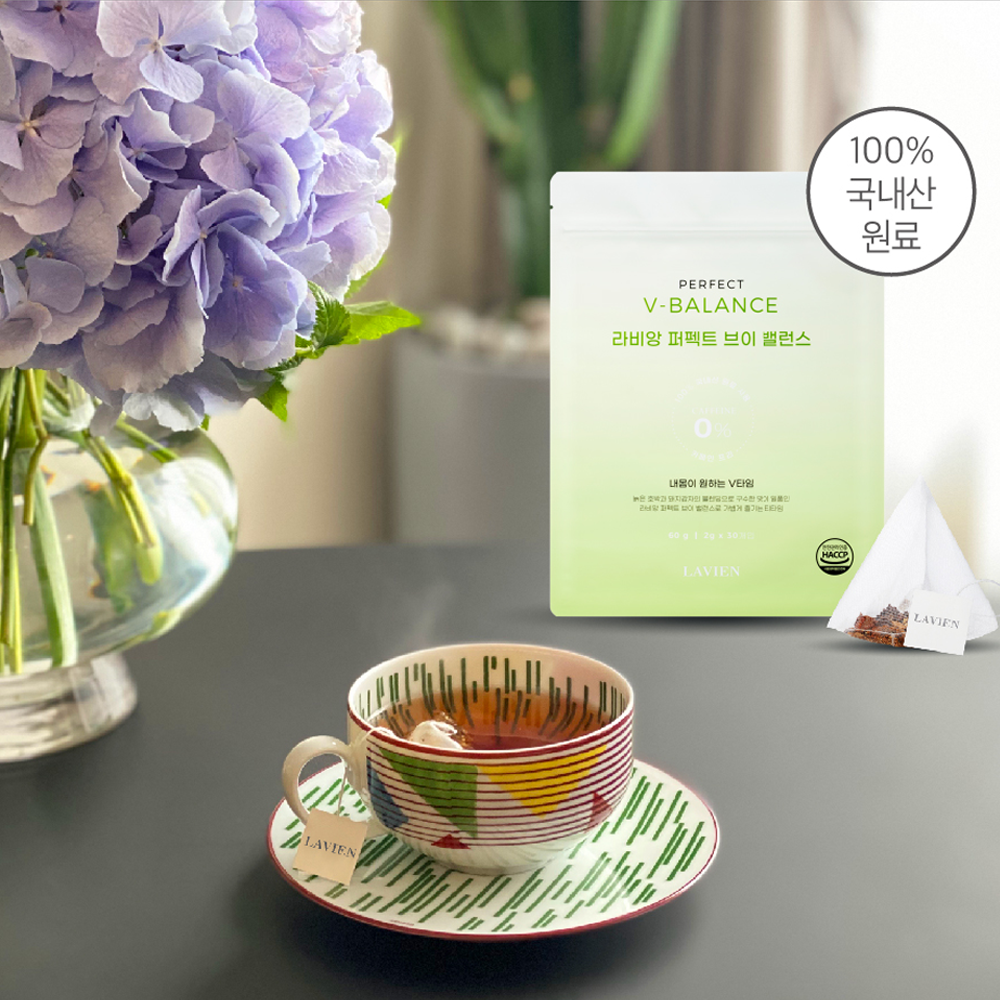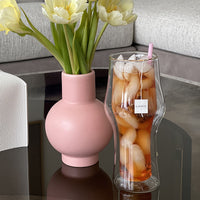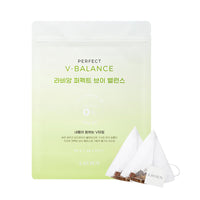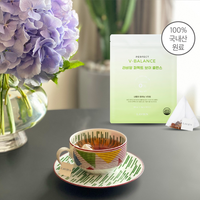 Perfect V-Balance | Savory and Healthy Tea
Perfect V-Balance | Savory and Healthy Tea | Heart-warming and Improves Mood 

Have a light day with the blended Lavien Perfect V Balance!
Derived ingredients 100% raw materials from Korea that brew well in both cold/hot water. It is a health supplemental tea that includes key ingredients as:
It's a flavor and scent that all ages can enjoy easily.  NO Caffeine, Zero calories, Sugar-free!
What does it contain?
-Old Pumpkin
-Helianthus tuberosus
-Tangerine Peel
-Quince
-Bellflower root
-Peapod
-Beat
-Corn
It's made of 100% Korean ingredients that brew well even in cold and hot water, so the savory taste is excellent
-FREE. It's a light tea that you can drink comfortably and like water with synthetic fragrance-free, caffeine-free, calorie-free, and sugar-free
-TEA BAG. Use a cornstarch tea bag with an ultrasonic joining method of ultrasonic bonding.
-MATERIAL. Use a cornstarch tea bag with an ultrasonic joining method of ultrasonic bonding.
-RELIEF. HACCP facility manufacturing heavy metal not detected. 320 residual pesticides not detected.
It has a flavor and scent that people of all ages can enjoy without burden!
You can eat it with confidence by blending it without adding any additives other than the original ingredients obtained from nature. Anyone can drink cold water or hot water like water without worrying about calories or caffeine!
Enjoy every day with zero calories!
1- 100% Korean raw material, 100% natural raw material. It's comfortable tea that is 100% raw material grown in our land, so you can drink it like water every day.
2- It's comfortable tea that is 100% raw material grown in our land, so you can drink it like water every day.
Even for those who have difficulty drinking plain water, you can easily enjoy the water with its savory and rich taste.
3- Free From Caffeine, Calories, Sugar, and Synthetic Flavor.
You can enjoy it as it has no caffeine, calories, and sugar.
4- Made with eco-friendly corn materials and ultrasonic bonding method. We made it eco-friendly to help with nature and give you a much healthier lifestyle.
5- Reliable design. From ingredients selection to materials, roasting to packaging, it is manufactured and managed in a reliable certification facility for drinking with confidence.
6- Verification. Authorized agencies passed both heavy metal and residual pesticide tests.
7-Enough capacity! It's strong even in cold water. A tea bag is filled with 2g/30 bags. It also brews well in cold water.
8- LAVIEN's Sense. It is 18cm long and it fits into a tumbler or commercial water bottle.
It is Heart-warming and Improves Mood!
-If you want a strong taste, add about 300ml of water.
-When you want a soft taste when you go out and exercise.
-When you drink your brewed tea in the refrigerator like water.
This tea is recommended for those who:
Work standing up 
Have difficulty drinking plain water
Are hard to open their eyes in the morning and heavy
Have swollen faces in the morning
Are looking for light tea to enjoy instead of coffee
Are looking for a tea to drink during the daytime for refreshments
Can't avoid irregular lifestyles
Frequently Asked Questions:
1- What is the proper amount of water for a bag of tea?
If you want to drink it strong, you can drink it in 300ml of water. If you want a soft taste, we recommend soaking it in 500ml-1L of water.
2- Can I drink while pregnant or lactating?
It's time to be careful about anything about pregnancy, so we recommend consulting your doctor before drinking. Also, people who are allergic to certain ingredients or specific substances due to personal differences may overreact depending on the raw material, so it is recommended to drink after checking.
3- Is there a recommended amount per day?
This product is not a medical product, so there is no recommended amount. Any healthy adult can have it.
Ingredients and contents
Old pumpkin (Korean), pig potato (Korean), bellflower root (Korean), mandarin peel (dried), quince, black bean tail, beet, and corn.
Precautions for consumption

Pregnant or nursing women, individuals with specific conditions or allergies should check the ingredients before consuming. Do not consume products that have passed the expiration date. If left at room temperature for a long time, there is a risk of deterioration, so please consume it as soon as possible. *This product is manufactured in a facility that also processes products containing milk, eggs, peanuts, wheat, tomatoes, tree nuts, chicken, and shrimp.