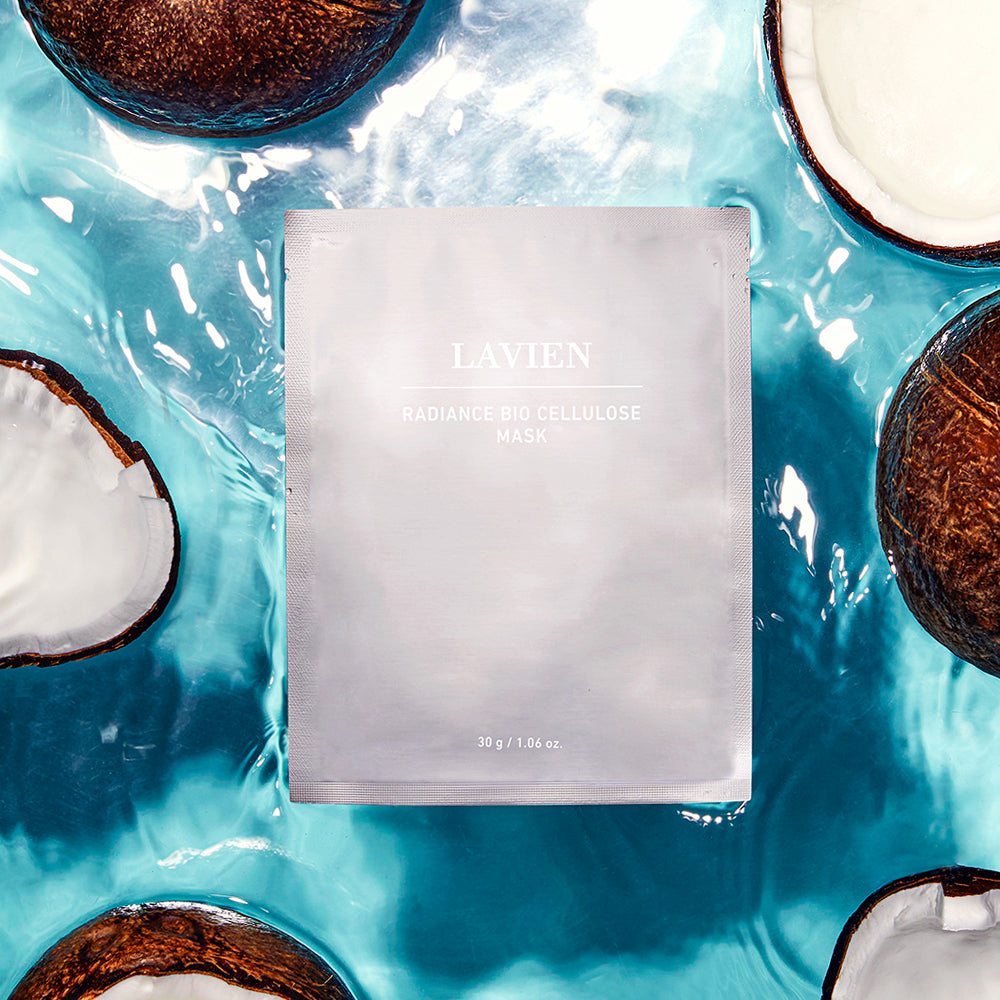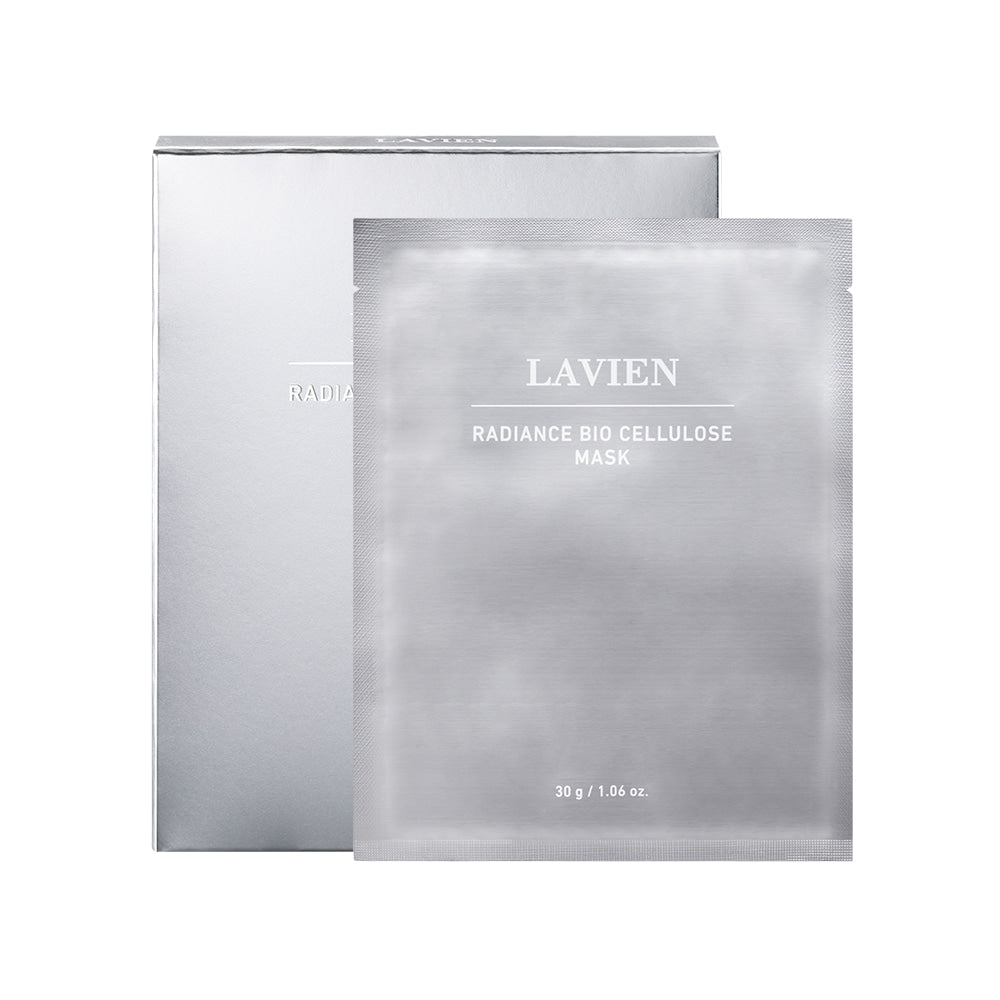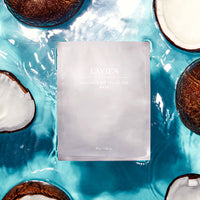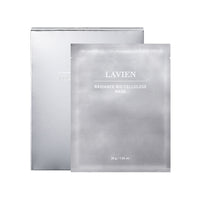 Radiance Bio Cellulose Mask Sheets - 5 sheets
LAVIEN Radiance Bio-Cellulose Mask Sheets | Moisturizing and Soothing Mask Sheets | Healing and Cooling Mask Sheets
Patented facial mask for aseptic/antiseptic-free for your precious skin.
Lavien Radiance Bio-Cellulose Mask sheet is suitable for all skin types.

Suitable for day/night use.

1 Box contains 5 sheets.


WHAT IS A BIO-CELLULOSE MASK SHEETS?
Sheet masks are really common in the market and are packed with multiple skin-loving ingredients to boost and improve our skin. While most sheet masks are made of cotton, Bio-Cellulose masks are ones that you must have in your collection.
Superb Adhesion
Bio-Cellulose masks are made out of a natural fibre with a diameter of 20 nanometers (said to be 1000 times thinner than human hair). As it is super thin, it tends to adhere better to our skin and fits snugly to ensure each part of our face will be hydrated and  able to absorb all the nutrients.
Long Lasting Moisture Retention
Bio Cellulose mask sheets are known to quickly absorb ingredients and can hold a larger amount of moisture, which can be better delivered into our skin, and usually have a gel like texture that feels cool upon application. The mask sheet is also made of a compostable material, which means it is more environmentally friendly for the environment compared to other masks. 
Efficient Ingredient Penetration
As Bio Cellulose Mask sheets are great at retaining moisture and adhering to your skin, they are able to penetrate a higher volume of ingredients into your skin. A 15 min application can allow you to have smoother and softer skin!
Barrier Against External Irritants
Bio Cellulose is a great physical barrier against external irritants in the environment, stress and other inflammatory triggers from our lifestyle.  Inflammation will also cause our skin's collagen and elastin to break down at a faster rate, thus causing fine lines and wrinkles to appear earlier due to a weakened moisture barrier. Also, during times like this when we do have a wear a mask for long periods of time, the use of a Bio Cellulose mask sheet is great for relieving and calming any inflammation or redness on our skin! 
WHY LAVIEN'S BIO CELLULOSE MASK SHEETS
Lavien's Bio Cellulose Mask Sheet is made out of a skin friendly natural material - Coconut Jelly, and it was developed as a Bio Cellulose mask as it is able to contain a higher water content capacity (more than 200 times its weight!). Coconut Jelly is also a naturally healing and cooling, and together with 75% Centella Asiatica extract, this mask sheet is superb for soothing and calming your skin.
Other key ingredients used in this mask sheets are:
Tea Tree Extract - helps to calm sensitive skin and pore care

Sodium Hyaluronate - highly moisturising

Mango Fruit Extract - protects the skin and brightens

Salvia Hispanica Seed Extract - provides additional nutrients and conditions dry and sensitive skin
This mask is recommended for those who:

Have been exposed to the sun

Feels that your skin is dry or dehydrated

Changing skin conditions due to different climate

Have rough skin texture due to dead skin cells

Have tight skin and needs hydration

Have large pores
Made from...
LAVIEN Radiance Bio-Cellulose Mask Sheet is made from Fermented coconut liquid. Developed as a cellulose facial mask sheet with its ability to retain 200 times the moisture of dry weight. Its available substance is good for "wound healing" and "pollution control"
*This product is safe for both pregnant and breastfeeding ladies usage. However, as it is a sensitive period, we would still recommend you to check with your doctor before purchasing.


The coconut component allows "more than 20 times the moisture" of the normal sheet to penetrate into the skin. It is also available for pregnant women or those who are breastfeeding.
It contains natural ingredients instead of normal purified water.
While 70-90% of normal mask sheets are composed of purified water, Lavien Radiance Bio-Cellulose Mask Sheet contains "Centella Asiatica extract 75%", the ingredient of madecassol, which is well known for wound healing ointment Essence.


It has a "large sheet size" than a normal facial mask sheet!
Long-lasting moisturizing power for 1-hour outstanding skin transmission.
Why choose LAVIEN Radiance Bio-Cellulose Mask Sheets?
1- Expensive "fabric" with "great adherence" and harmless "asepsis" "non-stimulation"!
2- LAVIEN essence 30ml is filled with "natural ingredients" instead of purified water.
3- "Outstanding moisture, cooling, and soothing effects" With large-sized sheets even for men.
4- Made with an "Even cutting" Automatic cutting machine, which enables the control of fine thickness.
Customer Reviews
04/21/2020
Sera
United States
Perfect Mask
The mask is large enough to manage up to the chin. My skin is very sensitive, but I like it because it's not irritating. I highly recommend it ;)
03/04/2020
Jacey
United States
Transformative!
It actually transform my skin to look gorgeously radiant! I'd want to put this on once a day!!
03/04/2020
Vivian
United States
A Must for your Friday
It makes my skin look radiant!! Moreover, good way to keep my skin hydrated. Good at calming skin as well - I use it when I have some serious acne breakout. A must if you have any big date ahead.
03/03/2020
Julie
United States
Highly suggest
Highly suggest if you're prone to oily acne. Since my skin is sensitive and oily, it's hard to find a mask sheet that will not dry out my skin and help control my oil production at the same time. This mask is seriously a lifesaver.
01/25/2020
Jane S.
United States
One of a kind! Outstanding
I've been using this product constantly. The essence is a good all-around. When the seasons change, my skin gets bad condition over really often. If you put up your mask pack, you'll see it sink the next day. It's definitely the best pack I have. It's so dry in the winter, but in this case, you can absorb the essence. I like it a lot.